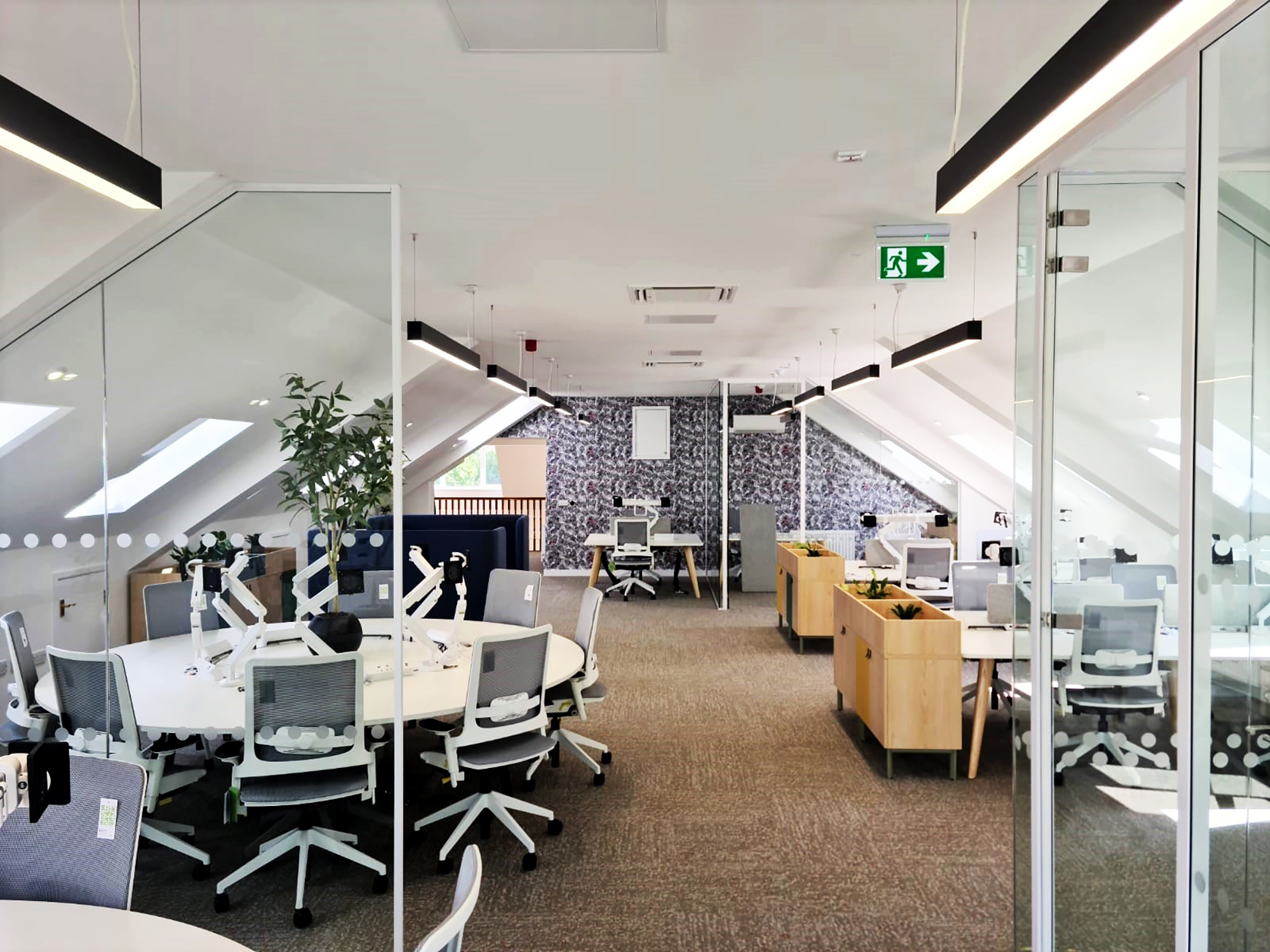 Childbase Partnership
Newport Pagnell, Buckinghamshire, UK
Illuminating Childbase!
Luceco's Contour LED luminaire was installed to provide contemporary energy saving lighting which enhanced the architectural features of the interior design, the body of the luminaire in Matt Black.  Contour provides individual or continuous runs of illumination suitable for many commercial environments and can be surface mounted, suspended as at Childbase, or recessed.   The LED lighting system consists of connectable modules with integrated drivers with quick electrical connectors for ease of installation and offers a 5 – 7 year extended warranty with over 100,000 hours operational life. With low ceilings throughout the interior, Luceco utilised the microprism diffusers to further lower the glare in the space and make it suitable for office applications in accordance with British Standards.
Luceco's Element adjustable downlighters were used on the sloping ceiling areas to offer flexibility of light distribution, alleviating potential issues of fixed downlights in sloped ceiling plains and light spread missing the periphery of the rooms.  Installation is made easy with a Plug and Play connector, specifically designed with a remote driver with a wire-in connector for first and second fix electrical installations, made possible by a loop in / loop out clip and fit terminal.  Variants include standard output or dimmable in either 3000K warm white or 4000K, all with an efficacy 100Llm/cW. 
Already rated a top UK workplace for over 13 years, the employee owned Childbase Partnership has recently won a prestigious award in the Nursery World Annual Awards 2022. The business is commitment to continuously redefining excellence in every area of operation, the new facilities at Newport Pagnell illuminating their continued success!
Client: Childbase Partnership
Location: Newport Pagnell, Buckinghamshire, UK
Date: November 2022
Featured Products: Contour Suspended linear luminaire, Element Adjustable downlights,