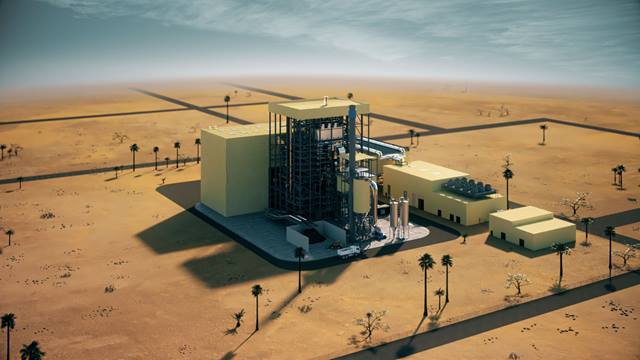 Department of Public Works
Sharjah UAE
Shining the light on Sharjah Waste to Energy
The project aims to achieve zero waste to landfills with the Sharjah plant processing over 37 tonnes of non-recyclable waste per hour and generating up to 30 megawatts of electricity, powering around 28,000 homes. The process converts the waste into heat which is then used to drive an electrical turbine.
There are many hazardous areas in the industry that require specific luminaires where the operation of lighting could pose a risk. Luceco offers a full range of LED luminaires approved for all ATEX and IEC Ex zone 1 and zone 2 hazardous area environments, including UL /CSA C1D2 installations. Designed for the most extreme environments, the range includes Flood, Linear, Bulkhead, Bay, and Crane luminaires, with emergency and industrial versions also available. The Sharjah Waste to Energy plant installed supplied a wide range of LED luminaires for the first waste-to-energy facility in the UAE.
ATEX luminaires throughout many hazardous areas including the boiler area platforms, tipping hall, turbine hall, processing areas, flue gas treatment area, air-cooled condenser area, and waste bunkers.
Epsilon luminaires and Platinum Mini downlighters were supplied to illuminate the administration areas. Epsilon is a direct/indirect UGR19-compliant recessed fitting designed to optimise lighting performance and maximise luminaire spacing offering an efficacy of up to 140 Llm/cW due to an advanced micro prism optic. IP65-rated robust Climate Extra fittings were used in the general service rooms, workshops, pump rooms, and substations along with Fortis Bulkheads to light general circulation spaces. Luceco's Via street lanterns were installed to light the internal roads around the plant.
Masdar, in partnership with Bee'ah, the Middle East's leading and award-winning environmental management company, says the new plant will divert more than 300,000 tonnes of solid municipal waste from landfills each year greatly assisting with environmental goals for the Emirate.
Cost-effective, energy-efficient lighting from Luceco will also help to meet this impressive facility's energy management strategy.
Client: Department of Public Works
Location: Sharjah, UAE
Date: October 2021
Featured Products: Epsilon Panel, ATEX Industrial Luminaires, Platinum Mini Downlights, Fortis Bulkheads, Via Street Lantern, Climate Extra Linear