East Midlands Ambulance Service (EMAS)
East Midlands, UK
Luceco Lighting Controls at East Midlands Ambulance Service Call Centre
Luceco has recently lit facilities at Horizon Place for East Midlands Ambulance Service NHS Trust (EMAS). EMAS provides emergency medical services, urgent care, and patient transport services for 4.8 million people, covering Nottinghamshire, Derbyshire Leicestershire, Rutland, Lincolnshire, and Northamptonshire.
Phase 1 of the project included the relighting of the Incoming Call Centre, a very busy environment operating 24 /7 and a pivotal element of the services provided by EMAS. The open plan space required eight zones which could be separately controlled providing various levels of illumination to assist with the activities of the call centre and to help promote well-being in a setting dealing with emergency situations.
Simple operation of the system provides various lighting control options including, dimming, scene setting, presence, and daylight control, all helping to reduce energy consumption and operating costs, whilst creating a comfortable lit environment.  Consultancy services were provided by Pick Everard based in Nottingham and the electrical installation was carried out by Brook & Mayo Ltd.
Recessed LuxPanel Extra luminaires were used throughout the installation controlled by Luceco's wireless lighting control system – Platform. Platform is an innovative controls solution making the planning, configuration, and commissioning of wireless lighting controls accessible to many applications from large open-plan commercial environments and warehouse spaces to conference rooms, corridors, and smaller office layouts. Existing and new installations can be transformed into a flexible wireless controlled infrastructure. Platform sensors were used to provide occupancy and daylight dimming facilities with Platform switches pre-set with scenes for different lux levels depending on the time of day and staff shift arrangements.
EMAS provides emergency 999 care and telephone clinical assessment services, receiving a new 999 call every 40 seconds! In its last inspection, EMAS was rated good and outstanding throughout. Now the facilities at Horizon Place enjoys the energy-saving efficiencies of LED lighting, a more pleasing lit environment, and a substantial return on their investment through use of modern lighting technology coupled with cost-effective lighting controls.
Client: East Midlands Ambulance Services
Location: East Midlands, UK
Date: June 2022
Luceco Project Manager: Leigh Davey
Photographer: Luke Worsey 
Featured Products: LuxPanel Extra, Platform Wireless Lighting Controls, Platinum Downlight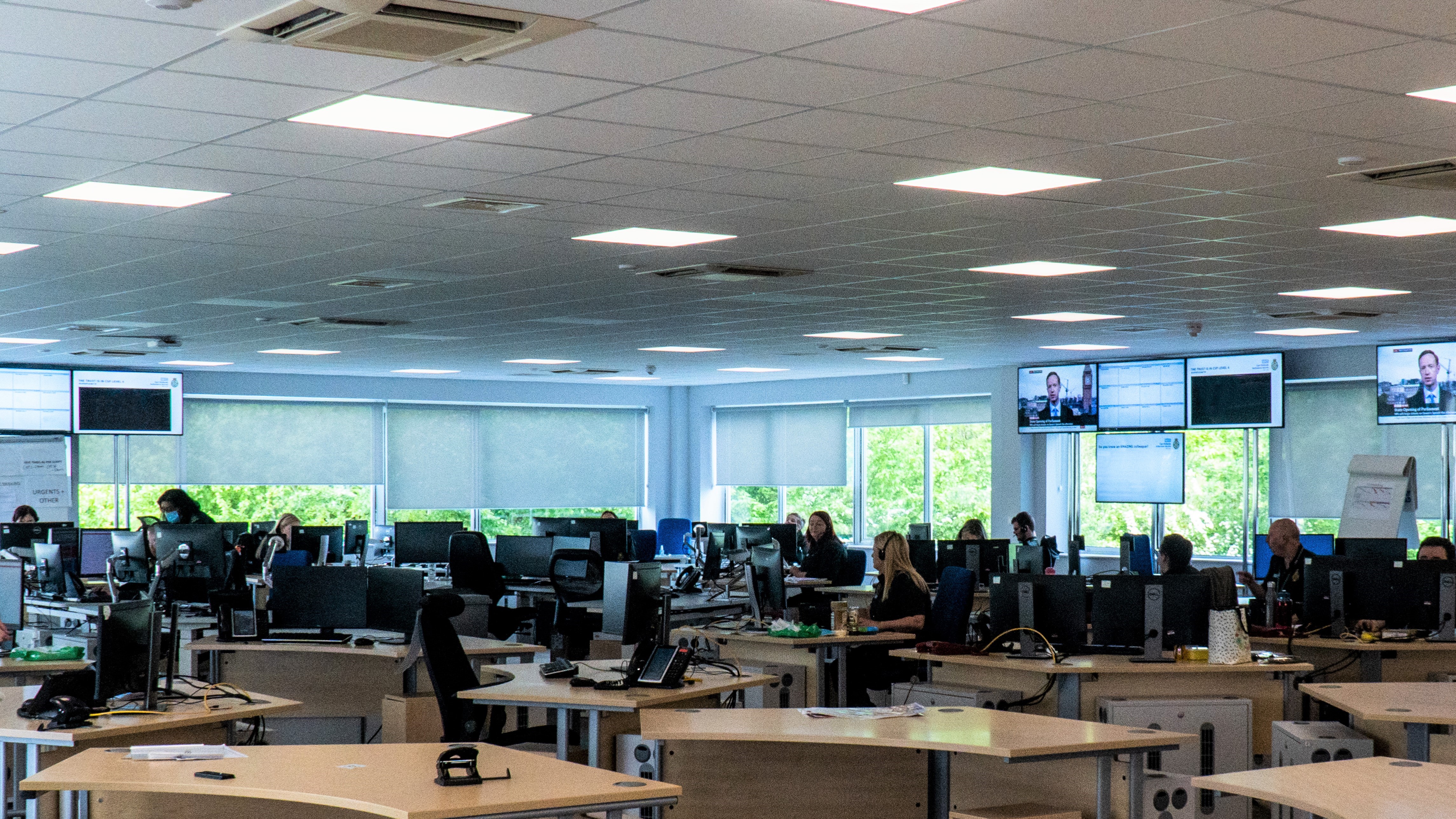 "With many organisations looking to become more environmentally friendly and reduce their energy and operating costs, lighting controls can help save around 60 - 70% on energy consumption, whilst ensuring spaces are lit as needed. Luceco Platform lighting controls offers high value return-of-investment on new or existing lighting installations as well as extending the life of the luminaires due to reduced operating hours, providing safety, security and comfort using scene setting, presence detection and daylight dimming controls."
Leigh Davey, Luceco Project Manager