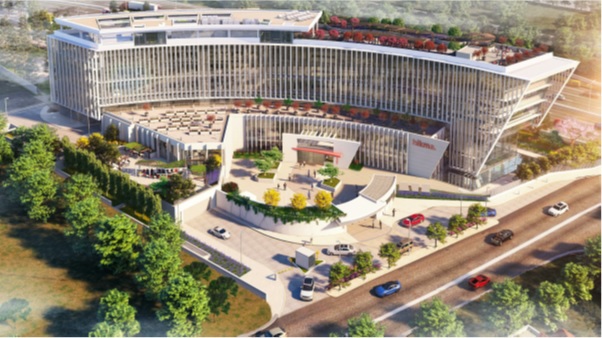 Hikma Pharmaceutical
Bayader, Jordan
Luceco lights Pharmaceutical Giant – Hikma
Luceco has recently been specified as a key supplier of LED luminaires for Hikma Pharmaceutical's impressive facilities based in Bayader, Jordan. Founded more than 40 years ago, Hikma is a $2Bn global pharmaceutical business providing high-quality affordable medicines.
Founded in Jordan in 1978, Hikma is now a leading supplier of affordable medicine and associated products. Environmental considerations and effective sustainability governance are considered essential elements to their continued success, cost-effective and energy-efficient LED lighting from Luceco will help towards their environmental strategy.
Platinum Downlighters can be used as a primary luminaire or complementary to other LED luminaires, particularly to emphasise architectural features within buildings. The Platinum range also includes the Platinum Surface as well as the popular high-performance Platinum used in many commercial environments. Platinum Surface Mount was specified for Hikma Pharmaceutical's luminaire installation. Providing the opportunity for creative lighting design using the same high-specification luminaire where a recessed ceiling void is not available, Platinum Surface Mount can be used as a pendant with suspension wires or directly mounted onto a solid surface.
Both the Platinum and Platinum Mini luminaries share the same enviable design features as well as a host of bezel and reflector options including IP65 lenses as used at Hikma Pharmaceuticals.  Standard, Dimmable & Emergency luminaires were part of the lighting design as well as a range of Luceco's popular LuxPanel LED lay-in modules.
The company's headquarters, incorporating a four-story building with roof garden, terrace, water feature, and landscaped grounds, has over 2000 Platinum Mini Downlighters specified via Luceco's local partner MEMCO, also based in Jordan. Platinum Mini is a recessed luminaire offering an efficacy of up to 117 Llm/cW, with a unique swing tab design for quick and easy installation into a 152mm cut-out.  Its die-cast aluminium body is designed to provide optimal thermal control and a choice of gloss or matt reflectors.
Client: Hikma Pharmaceutical
Location: Bayader, Jordan
Date: November 2021
Featured Products: Platinum Downlights, Platinum Mini Downlights