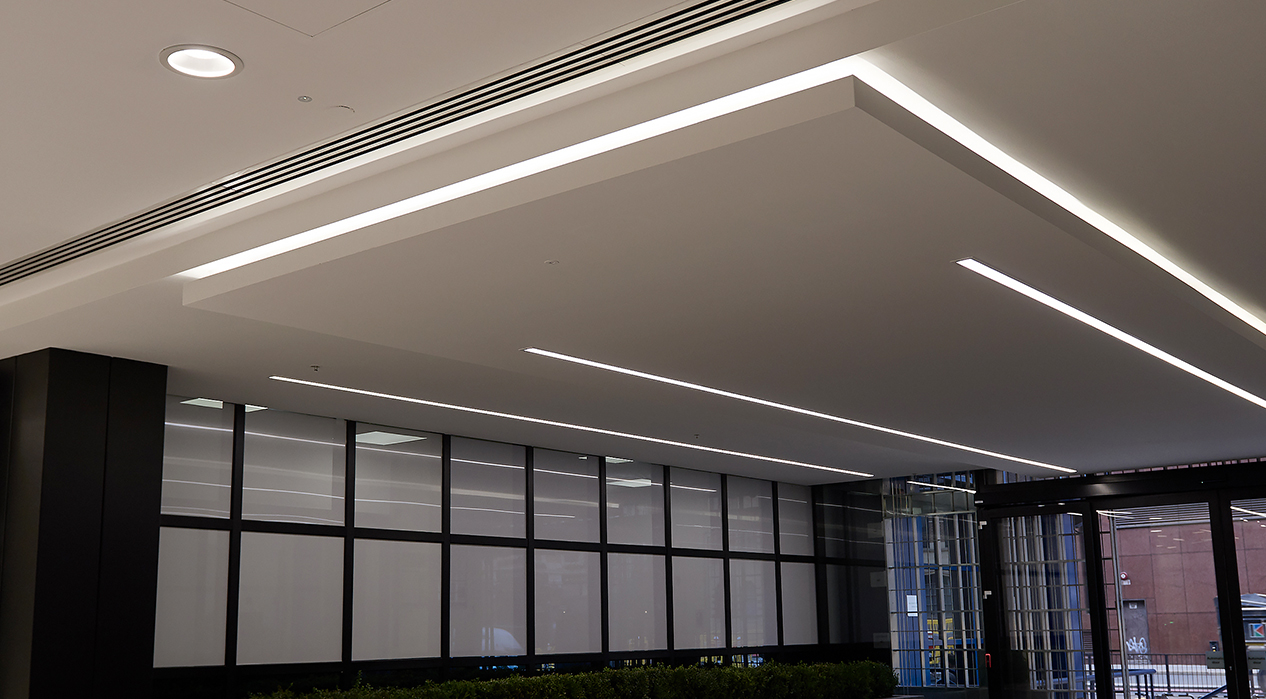 Northern and Shell
London, UK
Luceco LED Luminaire Refit At The Northern and Shell Building
Luceco has supplied LED lighting to the iconic Northern & Shell building located at 10 Lower Thames Street, London. The building has been the home of The Express and Star as well as other popular titles including OK Magazine. Office facilities in this landmark building situated on the north side of the river Thames have recently benefited from a significant refurbishment project. As featured on ITV news.
Concept M&E Ltd, based in Hemel Hempstead, took care of the electrical installation of the LED luminaires for Meyer Office Solutions, a commercial design and build company. Meyer Office Solutions specialise in the design of floor plates from large commercial buildings, subdividing spaces to meet the requirements of their clients.
The main entrance foyer has been lit with Contour from Luceco. Contour is the ideal LED luminaire where continuous runs of illumination are required in commercial environments.
The LED lighting system consists of connectable modules offered in 600 mm, 1200 mm, 1500 mm, and 1800 mm lengths that can be surface mounted, suspended, or as at the Northern & Shell Building, recessed into the ceiling void.
Seamless runs of energy-saving cost-effective LED lighting can be created with a full range of interconnecting illuminated modules including corner connectors, T junction, and cross pieces.
Contour has a 5-year extended warranty available and offers over 50,000 hours operational life, with no maintenance over the lifetime of the luminaire, an important factor when considering applications such as commercial environments where 24 hours a day operation may be required.
Luceco relit offices with an array of luminaires including 1200 x 300 Edgelit LuxPanels with a bespoke fixing bracket designed to meet the requirements of the existing ceiling. The classic LuxPanel design offers high efficacy performance and maximum energy savings and available in standard fixed output or dimmable.
Carbon Downlights and Circular LuxPanels were installed in corridors and breakout areas. Carbon is an ideal replacement for compact fluorescent fittings and is designed to retrofit ceiling cut-outs of common traditional downlights.
Circular LuxPanels benefit from a slim frame with a depth of only 20mm and provide excellent luminous uniformity. Available as standard with emergency packs or with dimmable remote drivers in 240, 180, 150, and 120mm sizes, this range of luminaires demonstrates the diversity of the LuxPanel family.
Other luminaires used included Platinum LED Downlights. Platinum features easy fit positive locating swing-out tabs and interchangeable bezel options and is ideal for use with sensors and lighting controls and offers possible running cost savings of up to 80%. Luceco were delighted to provide LED lighting solutions that will benefit the energy efficiency and cost-effectiveness of such an iconic building situated in the heart of the city of London.
Client: Northern & Shell
Location: London, UK
Date: March 2019
Featured Products: Contour Recessed, Contour Suspended, Platinum Downlight, LuxPanel Edgelit, LuxPanel Circular, Carbon Downlight