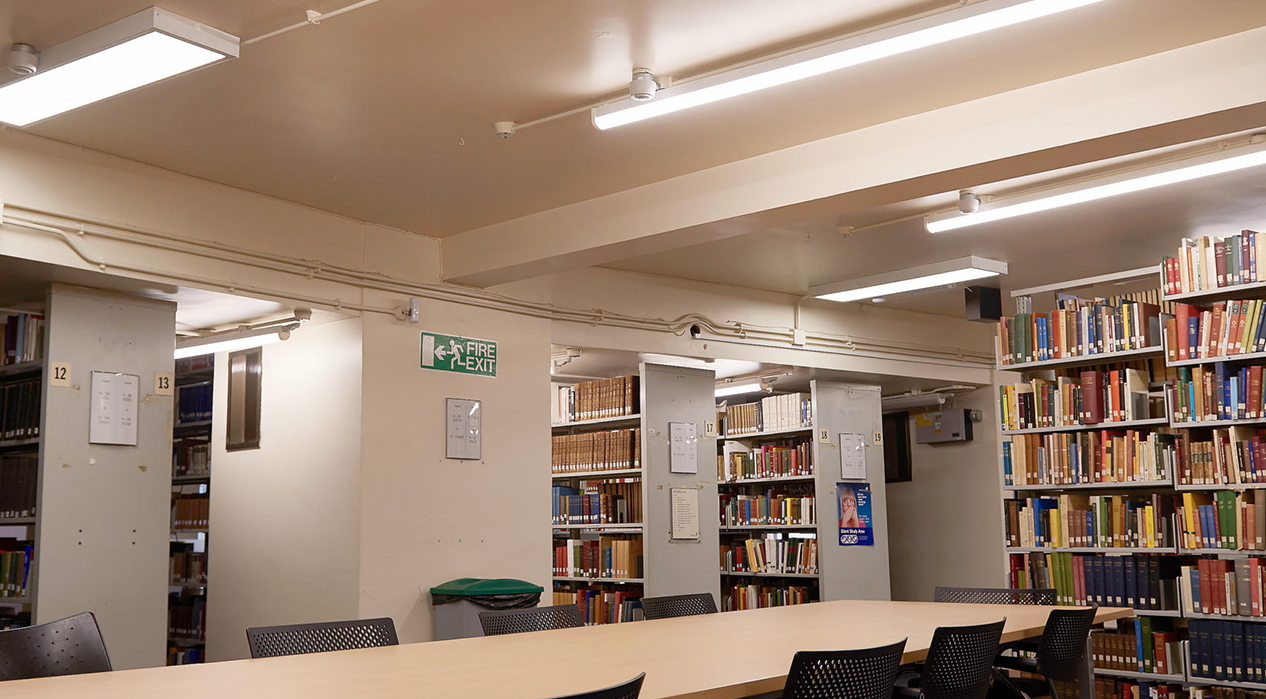 University of Leeds
Leeds, UK
Luceco Illuminates Educational buildings at the University of Leeds
Luceco LED lighting ranges were installed as part of a multi-building refurbishment at the University of Leeds. Luceco luminaires installed at The University of Leeds (UOL), including the Michael Sadler Building. The UOL was founded in 1904, with origins going back to 1831 with the founding of the Leeds School of Medicine and then the Yorkshire College of Science in 1874.
The Michael Sadler Building has one of the largest facilities on-campus with the 340 seat Rupert Becket Lecture Theatre and the recently refurbished Department of Linguistics meeting facilities which consist of the World Cinema Room as well as other lecture theatres and seminar rooms.
An array of luminaires from Luceco included LuxPanel, Platinum Downlighters, LuxPack and Academy, all offering no maintenance or re-lamping requirements over the lifetime of the luminaire and being the ideal replacement for traditional fluorescent lamped fittings in commercial and educational environments.
The Academy luminaire is designed and typically used in education applications and was installed in numerous circulation areas. Academy benefits from an opal prism diffuser with screw secured endcaps and can be surface mounted or suspended. LuxPack was used where space was at a premium and recessed fittings could not be used.  LuxPack features a wraparound opal diffuser for optical control and comes in 1200mm, 1500mm and 1800mm lengths.
Recessed 600 x 600 LuxPanel luminaires were used for a variety of applications, providing a cost-effective and energy-saving lighting solution. Glare control and adequate illuminance on the vertical combined with good uniformity needs to be considered when lighting educational environments, in particular, in rooms that are multi-functional.  High-efficiency LuxPanels from Luceco provide the ideal solution and have a completely frame-less appearance in the ceiling plane and a market-leading efficacy of 152 Llm/cW.
Both LuxPack and Academy have a central cable entry with BESA fixings spaced at 600mm, so are ideal for retrofitting in place of traditional fluorescent fittings in commercial and educational environments. Both luminaire are available in emergency variants and digital dimming, with the Academy also available with microwave sensor and LiteIP and LuxPack offering high output variants and PIR presence detection.
Platinum Downlighters can be used as a primary luminaire or complementary to other LED luminaires, particularly to emphasis architectural features within buildings. The Platinum range includes Platinum Mini and Platinum Surface as well as the popular high-performance Platinum used in many commercial and educational environments. The recessed luminaries share the same enviable design features such as easy fit positive locating swing out tabs and running cost savings, being an ideal alternative to CFL downlights as well as a host of bezel and reflector options.
The Platinum family is ideal for use with sensors and lighting controls including Luceco's Wireless Lighting system to further improve energy efficiency and has dimmable and emergency options available. Wireless Lighting Controls is an intelligent wireless lighting system requiring no complicated electrical installation and no limit to the number of luminaires that can be controlled and is compatible with all driver types including DSI, DALI and 1-10 V.  Other features include presence and daylight detection, energy monitoring and reporting.
Client: University of Leeds
Location: Leeds, UK
Date: November 2019
Featured Products: Platinum Downlights, LuxPanel, Academy Linear, LuxPack Linear